Wet N Wild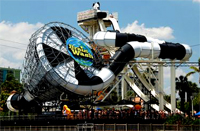 Wet and Wild Water park consistently wins top marks in visitor polls. Conveniently situated on International Drive Wet n Wild is popular with vacationers and locals alike. You will be spoilt for choice with some awesome rides. Wet and Wild are constantly looking to improve the park and come up with fresh experiences!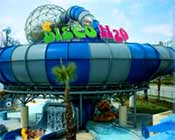 Get down at America's favorite water park! Wet 'n Wild – Orlando introduces a groovy new multi-million dollar attraction showcasing the 1970's disco nightlife. It's a little bit of funk, a little bit of soul, and a whole lot of water. It's the Disco H2O™ , baby! Or take some friends and race down the mach 5 where you choose from 3 individual unique slides, each with different turns and twists to keep you always guessing! Find your way down the storm in this creative fun experience, plummet down a steep slide and swirl around a pool full of water before being dumped out of this dizzying attraction.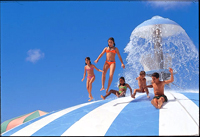 On select months of the year you can go to the Wake Zone on the lake and learn how to wakeboard, kneeboard and ski while holding on to a constantly rotating cord!
Grab your platform shoes, bellbottoms, and favorite 8-track and prepare for a trip to the funky 1970's! Splash to the hits of the 70's as you spin circles through an enclosed aqua nightclub on Disco H2O™, the newest addition to our collection of multi-passenger thrill rides!
Buy Wet and Wild Tickets
As part of an Orlando Bundle of Fun Ticket
Read more about the savings you can acquire with Orlando Bundle of Fun Tickets.
Wet 'n Wild's Yearly Schedule:
Wet 'n Wild's Address:
6200 International Drive - Orlando, Florida 32819
Less than two miles from Universal Orlando and SeaWorld, on International Drive at Universal Boulevard, off I-4 at Exit 75A, formerly Exit 30A
We are always in stock. We have both one day Wet 'n Wild tickets and Wet 'n Wild in an Orlando Flex available for same day pick up. Order Yours today and pick them up today!