Animal Kingdom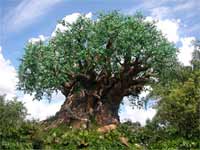 Home to hundreds of animals this theme park is dedicated to rare and exotic creatures of the animal kingdom. Located in the center of the park is Animal Kingdoms signature icon, a massive tree named "The Tree of Life." Engraved on the side of the tree are images of animals that represent the circle of life. The theme park is separated into seven different themed areas.
The theme park is often used for educational purposes and is often visited by school groups. Filled with shows and attractions the priority of the theme park is to demonstrate the capabilities of the animals; this is often portrayed during the shows and demonstrations. The theme park is filled with expeditions and discoveries, be ready for an adventure!
Animal Kingdoms Dining Options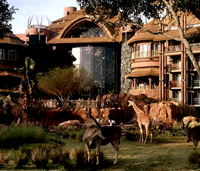 Pizzafari: Enjoy some traditional American food in this exotically themed restaurant. Pizzafari is one of the few places in Disney to serve alcohol.
Yak & Yeti Restaurant: Put your taste buds to the test in this Asian restaurant among Himalayan Artifacts!
Restaurantosaurus: Located next to an archeological dig site this prehistoric restaurant is home to a variety of creatures. Enjoy some typical American food and observe the wildlife.
Flame Tree Barbeque: Serving off the grill this fantastic dining area supplies you with an array of meats and hand tossed salads.
Animal Kingdom's Attractions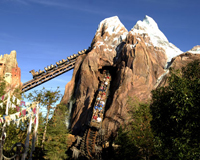 KiliManjaro Safaris: Enjoy a leisurely ride through the Rain Forest, African Jungle and Savannah planes! Keep all hands inside the vehicle for these up-close encounters.
Expedition Everest: Take a spin on this wild side Rollercoaster where you will search for the famed but elusive Yeti!
Affection Section: Small children and adults alike will enjoy this section of the park. For all those that wanted to get behind the bars and pet those fuzzy and docile animals your dreams about to come true. Pet and feed a variety of domesticated animals in this family friendly petting zoo.
Animal Kingdom is one of the big 4 Disney theme parks (along with Magic Kingdom, Epcot and Hollywood Studios) you can buy a one day ticket or a multi day Magic Your Way Ticket.
One Day Animal Kingdom Ticket
This ticket allows you to visit Animal Kingdom for a day. You don't have to stop in the park all day - you can leave for a while, get a hand stamp at the exit and return later in the day. Many people like to head off back to their hotels for a nap or a swim during the hottest part of the day- returning later to enjoy evening parades and fireworks.
More About One day Animal Kingdom Tickets
If you want Animal Kingdom tickets for just one day you need to buy a Magic Your Way one day Base ticket. This ticket allows you to visit Animal Kingdom for one full day. (You can leave and re-enter the park if you wish.) One day Animal Kingdom tickets are not discounted. We are not allowed to sell them at less than gate price. We stock one day Animal Kingdom tickets to save you time standing in line even if you don't save any money!
Buy one day Animal Kingdom Tickets
Multi Day Magic Your Way Tickets
Visit Animal Kingdom with a multi day Magic Your Way Ticket. You can buy these different type of tickets:
Base Tickets - Visit one theme park per day
Hopper Tickets - Visit multiple parks on the same day
Magic Plus Tickets - Which also give visits to water parks
Premium Tickets - Give both hopping and visits to water parks
With a multi day ticket you can visit Animal Kingdom more than once. The choice is yours. You can go to Animal Kingdom every day of your ticket if that is what you prefer.