Sleuths Mystery Dinner
Purchase Pirates Dinner Show Tickets at Our Secure Shopping Cart.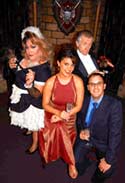 Since 1980, Sleuths has been providing an exciting and intellectually stimulating form of entertainment in Orlando, Florida. An evening at Sleuth's begins with you being treated as a guest at a celebration such as a wedding or class reunion depending on which of our 11 plays you attend. Over hors d'oeuvres, salad, and drinks you will begin to get acquainted with the characters of the show and will learn more about their situation during the 30-45 minute play at the end of which, of course, one of them dies.
After the murder, everyone is hungry so you can discuss clues and theories over dinner. Be sure to come up with some good questions because after dinner we bring all the characters back on stage (the ones that are still alive anyway) and allow you to interrogate them for more information. The dramatic unveiling follows dessert.
Shows
Island for Sale: On Parrot Island there seems to be a scandal, the Grand Duchess has made preparations to sell the Island to large companies so she can tour the world, however it seems that some of the island's inhabitants are concerned about the possible outcome. Can you stop the madness before this devious mind molds and shapes the outcome of this event to his or her benefit?
The Family Tree: Welcome to Surrey England, you have been invited to a family get together of a large family tree. However your good host happens to be a brilliant scientist, and his work holds many, many secrets that apparently are wanted by the family members.
WKZY: When this small little radio station goes big the station goes a-buzz with anticipation and frantic last minute fixes before the station prepares to introduce one of its new hosts to the world. However with this funny crew and devious plots everyone sees an opportunity and everyone has that one person who stands in their way.
The Reunion: At this Alumni reunion for Luray Academy not everything is as it seems. Secrets are revealed to destroy the academy and use the land for condos, and when one turn takes to another the twists and plots are all brought down to one screeching holt when someone commits murder.
Menu
The Menu: Before the Show
Garden salad with honey-mustard dressing
Dinner rolls with butter
Hot and cold Hors'doeuvres
Entrees, Choice Of:
Honey-glazed Cornish game hen
Prime Rib dinner ($3.00 extra)
Three cheese lasagna (With or without meatballs, your choice)
Mystery Dessert:
If we told you, it wouldn't be a mystery, would it?
Beverages:
All drinks are unlimited and included in the Sleuths Discount Ticket price.