Busch Gardens Tampa Bay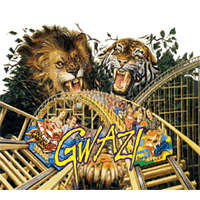 Guests at Busch Gardens Tampa Bay Bay will be amazed with a close-up look at some of the African continent's most exotic animals. The Edge of Africa safari will charm and educate visitors with its hippopotamuses, hyenas, baboons and Nile crocodile, among others. You will be thrilled by the exotic atmosphere of Busch Gardens with its rides, shows, animal displays and shopping, visitors will find plenty to make Busch Gardens the adventure of a lifetime. Busch Gardens Tampa Bay has a total of 28+ rides located throughout the park. Height restrictions apply on some rides.
Busch gardens has one of the largest selections of roller coasters in the world. Boasting massive, unique roller coasters such as the Gwazi, the Montu, SheiKra and more! Each roller coaster holds a unique design, some even hold world records for their amazing fetes and attractions. Holding some of the tallest and longest coasters in the world this theme park can simply be called roller coaster heaven, and that's no an understatement!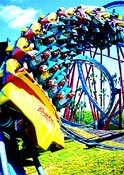 While the theme park appeals to roller coaster lovers, Busch gardens has carefully expressed it's vision for all ages. By adding roller coasters and rides for the kids, the theme park is directed for no particular age group. These rides include the Cheetah Chase, King Tut's Tomb, the Serengeti Railway and more!
While the rides and attractions bring a certain theme park feel to the area, one of the unique attributes of Busch Gardens is the animal attractions. Having an abundance of rare animals at the theme park its hard not to see something few will ever see. Bringing you up close encounters with these animals and demonstrating their abilities is only one of the truly capturing traits of the Busch Gardens theme park.
During the hot summer days in Florida it is always a great idea to cool off. Located just across from Busch Gardens is the awesome Adventure Island, a fun filled water park!