Blizzard Beach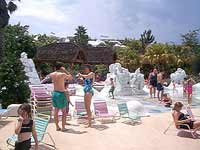 What happens when a ski resort undergoes a rapid meltdown? You get the "hottest" ski slope around! Experience the 120 foot high Summit Plummet or take a plunge on the Downhill Double Dipper dual racing slides. Take your kids to the Ski Patrol zone where pre-teens can enjoy an array of fun water obstacles and age appropriate rides. With an abundance of water slides and family fun tube rides the theme park is the second most visited theme park in the world! Created shortly after a freak storm carrying a load of snow over Central Florida the theme park was declared a water park when the snow began to melt! Now with its friendly alligator mascot known as "Ice Gator," the theme park is a flourishing Walt Disney World attraction.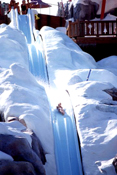 Come experience an array of Water Slides, whether your speeding Downhill on the Double Dipper or rocketing through water on the Summit Plummet you cant possibly call one experience the same as the other. Either casually enjoy these water slides or take it serious and learn the positions that increase your speed or allow you to go higher on the turns. Beat your friend that has been speeding past you on the Toboggan Racers or just enjoy the time you have on the slide, either way its going to be a blast!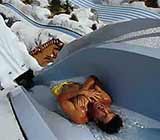 If you have kids and are concerned about how much entertainment they will get from just the constant wave pool, think again! If their to young or small to ride the slides take them to the Ski Patrol lagoon where they can play on age appropriate water attractions. Swim in shallow pools and climb on top of floating ice while holding on to a net over-head. Slide down slides that are just the right size, or take a swing on a zip cord over a pool!
Magic Your Way PLUS with Blizzard Beach Tickets
Magic Your Way tickets are available with a PLUS feature. The PLUS feature allows you to visit:
Disney's Oak Trail Golf

Blizzard Beach

Typhoon Lagoon

Wide World of Sports

Disney Quest
As well as the theme parks. The length of your ticket determines how many PLUS choices you get. You can use the PLUS choices exactly as you like, You could use each one at a different attraction (from the above list) or you could go to Blizzard Beach every time if you wanted to.
Blizzard Beach Tickets in Magic Your Way Plus.
Magic Your Way PREMIUM with Blizzard Beach Tickets
Magic Your Way Premium tickets also contain Blizzard Beach. Click here to read more about Magic Your Way Tickets.
Our Magic Your Way tickets are discounted. Disney World gives discounts to brokers who buy tickets in large numbers. We are able to pass the savings on to you. Buy our Blizzard Beach Tickets with confidence.