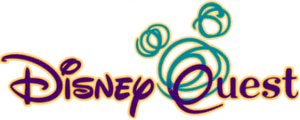 Disney Quest is a 5 floor indoor, interactive adventure. It's a wildly imaginative wonderland featuring the highest of high-tech fun for kids and grown-ups.
Shoot the rapids in a virtual prehistoric world.

Hop into a simulator and ride a roller coaster that you design.

Fly a magic carpet through an ancient city.

Sail into the virtual world of the Pirates of the Caribbean.

Record your own CD at Radio Disney Song Maker.
It's a breakthrough concept in family fun!
One Day Disney Quest Tickets
We sell one day tickets to Disney Quests. This is the perfect ticket if you just want to visit Disney Quest on one day and are not interested in other Plus features (like water Parks and Pleasure Island). We sell a lot of one Day Disney Quest Tickets to Florida residents.
A one day Disney Quest ticket gives you access to the center all day - from opening to close. You can leave and return later in the day if you get a hand stamp but you might find it hard to tear your teenagers away!
Click Here to purchase One Day Disney Quest Tickets!
Magic Your Way PLUS with Disney Quest Tickets
Magic Your Way Tickets are available with a PLUS feature. The PLUS feature allows you to visit:
As well as the Walt Disney Resort Theme Parks. The length of your ticket determines how many PLUS choices you get. You can use the PLUS choices exactly as you like, You could use each one at a different attraction (from the above list) or you could go to Disney Quest every time if you wanted to.
Buy Magic Your Way PLUS Tickets Here!
Magic Your Way PREMIUM with Disney Quest Tickets
Magic Your Way Premium tickets also contain Disney Quest. Click here to read more about Magic Your Way Tickets.
Buy a Disney Quest Ticket in a PREMIUM Pass.
Our Disney Quest Tickets
We are often asked why our Disney Quest tickets are so cheap. Customers are wary that our Disney Quest tickets might not be the real thing. Let me set your mind at rest our Disney Quest tickets come straight from Disney World. We are registered Disney brokers and are fully authorized to sell you Disney Quest tickets at a discounted price.