Kennedy Space Center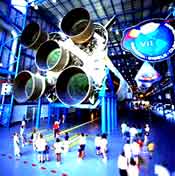 Kennedy Space Center is a must for anyone fascinated by Space. Seeing the rockets up close and personal is an awesome experience.
Just 45 minutes from Orlando Kennedy Space Center is the only place in the world that you can tour launch areas, meet an Astronaut, see giant rockets, train in space flight simulators, and even view a launch. Here at Kennedy Space Center you can find a wide variety of fun and educational things to do. As you enter the area you will see some massive rockets, these are remakes and some of the original crafts that have gone to space. Just standing under these towering rockets makes you realize the power that goes behind taking a man into space and the enormity of the steel that sits beneath him.
This educational adventure is the perfect way to spend your day! Come learn about how space missions are carried out, and get some hands on experiences and close up views of some of the worlds most advanced technology. Here at Kennedy space center you will get to see the rocket, the space pad and everything in-between. Bring your camera because the area is loaded with photo opportunities.
Kennedy Space Center Hours:
Kennedy Space Center Visitor Complex is open every day of the year, except on specific launch dates and some holidays.
Usual operating hours are from 9:00 a.m. to 7:00 p.m.
(The Astronaut Hall of Fame is open from 10:00 a.m. to 8:00 p.m.)
Directions to Kennedy Space Center:
From the Orlando International Airport, take SR 528 (KSC Highway) east and follow signs. Take SR 407 until it dead-ends into SR 405 and turn right. Continue to follow signs.
From Interstate 95, take exit #212 (old 78 exit) if heading northbound, and exit #215 (old 79 exit) if heading southbound.
To View Kennedy Space Center Tickets Prices Click Here.