Islands of Adventure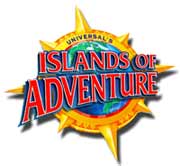 Islands of Adventure is home to an array of incredible rides and entertainment. Divided into 5 separate "islands" the theme park hosts a selection of different themes and experiences. The five separate islands are Marvel Super Hero Island, Toon Lagoon, The Lost Continent, Jurassic Park, and Seuss Landing. Each are has a unique set of attractions rides and souvenir shops.
Islands of Adventure is currently the 9th most visited theme park in the world. With rides like the Incredible Hulk Roller Coaster and Spider Man Simulator the theme park is a booming attraction for the Central Florida area.
Harry Potter has become a popular book and movie series, Islands of Adventure has realized this and would like to contribute to the great fun and entertainment that the story tells. Now Islands of Adventure is preparing the park for an entirely new section dedicated strictly to the magical adventures of Harry Potter, with full blown rides and entertainment this section will be the ultimate source of entertainment for any fan!
Headliners include
The Amazing Adventures of Spider Man

Incredible Hulk Coaster

Jurassic Park River Adventure

Dueling Dragons Roller coasters
Many of our customers feel that a visit to Islands of Adventure is just as essential as days at the Disney theme parks. In fact rivalry between Universal Studios and Disney works out just great for the vacationer. While ever these two giants try to out do each other the Theme Parks will keep getting bigger and better.
Islands of Adventure tickets are available as one day one park tickets or a multi day tickets with Universal Studios but the most economical way to purchase IOA tickets is in a Bundle of Fun Ticket.
More about Orlando Bundle of Fun Tickets
1 Day Islands of Adventure Tickets
2 Day Universal Orlando Tickets
7 Day Universal Orlando Tickets
5 Park Orlando Bundle of Fun Tickets
6 Park Orlando Bundle of Fun Tickets