Gatorland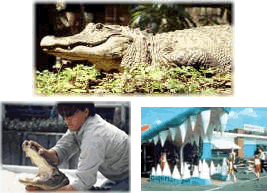 There are 50 acres at Gatorland where you can experience the natural Florida beauty. Take courage as you walk across the Alligator breeding marsh - don't be intimidated by those huge creatures threshing about below the boardwalk. You're safe. (really) From the second you enter the park you will be surrounded by wildlife. Inside the gift store you can purchase great souvenirs, alligator paws, stuffed heads and products made using alligator skins. Once you are into the park you are walking across high boardwalks with nets all around, bellow you in the water is the amazing and monstrous alligators.
From your perch above these alligators you have a clear view of the enormous creatures as the swim through the water. Purchase fish and hot dogs and you can throw them over the edge to feed the animals. During the day the staff have shows where they string up full chickens and stretch them out over the water, then the alligators will demonstrate just how high they can jump out of the water for you!
Around the park there an abundance of wildlife nature paths and cages, housing some of Florida's less seen and exotic creatures you can have some up close encounters with these amazing animals. One of the best shows at the park is the snake show where two park employees introduce you to some of the most exotic creatures on the planet, filled with comedy and entertainment this show should not be missed!
Purchase your Gatorland Tickets Here!