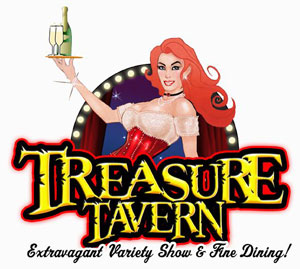 Buy Treasure Tavern Tickets Now!
As the number one vacation destination in the entire world, Central Florida is full of fun sites and attractions. With theme parks galore you can find an abundance of family fun and entertainment all year round. However, one of the most overlooked forms of entertainment in Central Florida is Adult fun, and Treasure Tavern intends to bring it back to life! This fun and exiting new dinner show lets you and your buddies, you and your spouse or you and your date enjoy a night out specifically designed for adults. When you're visiting the theme parks with your kids and your just looking for a one night escape, then you have come to the right place. The only question is, "What makes this dinner show different than the others?" Well you have asked the right question, this fun and energetic adventure takes you back into a time when the pirates and sailors of the sea were looking for only one thing, a good cup of rum and a night full of singing and dancing.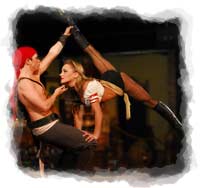 Treasure Tavern the buccaneer getaway is a large theatre experience that puts a huge twist on the average Dinner Show. This brothel themed theatre is a relaxing way to make your night special! As soon as you enter you will be greeted by the over enthusiastic and energetic Gretta, your host for the night. He will lead you through act after act on the large stage. From singing to dancing the wide variety of arts and performances will have you entranced the whole night! You will see some extraordinary feats that will blow your mind, acrobatic stunts that border on the insane! With comedy and skits to occupy your night there will never be a dull moment in this hysterical, jaw dropping and theatrical show! One of the most important things to remember about this great show is that it changes seasonally, so you will never get board with this fun filled experience! So what could possibly make this show any better? Letting you eat a full three course meal while your enjoying the show… after all it is a Dinner Show!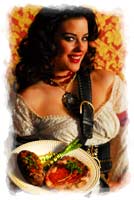 This fantastic meal is served by world class chefs that were quickly "Shanghaied" to ensure your meal is more than suiting. This foot tapping experience only gets better and better with some of the most unique and zesty prime ribs you will ever taste. Served to you by the lovely Treasure Tavern Wenches these beautiful women will have your plate full the entire night! Nothing sounds better than live entertainment and Rum Toatin' Women to get the party started! Enjoy a full three course meal that just adds to the great entertainment and kick back and relax environment.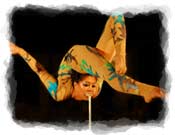 Treasure Tavern was created by the same people who run Pirates Dinner show, meaning when it comes to live entertainment and food, they know how to do it best! This new and fantastic dinner show keeps you on the edge of your seat and fills your belly with some of the most amazing food and rum in Central Florida! So what could possibly keep you from enjoying this fun filled adventure? Head on out to Treasure Tavern, opening June 22nd of 2010!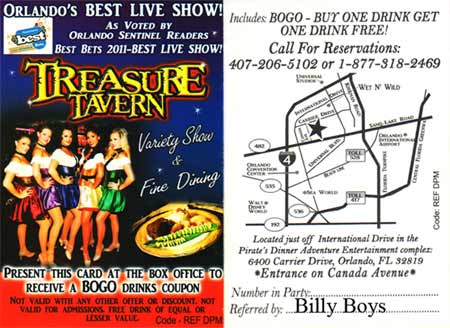 Buy Treasure Tavern Tickets Now!