Adventure Island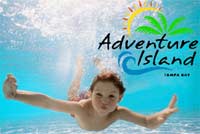 Welcome to thirty acres of family fun under the sun! Busch Gardens brings you an incredible water park for the entire family! Filled with slides, playgrounds, wave-pools and more this theme park is for everyone!
Take a ride on the lazy river or slide down some of Florida's largest water slides into a fun filled lagoon. Or go sun bathing on the beach next to a massive water pool where you will experience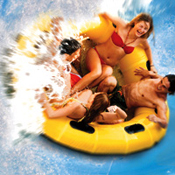 endless surf. Or join a friendly crew down on the volley ball court, where the sands always fresh and the games always happening. Get on a raft and join the rest of the park on the Run-Away rapids for some group sliding fun! or lay flat on your belly and plummet head first upon a sled and race your partner down the Rip-Tides! Whatever it is you enjoy doing, Adventure Island has the thing for you!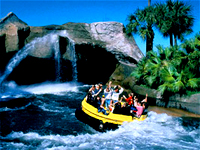 Housing a 17,000 square foot wave pool you are prone to total emersion into this paradise of rolling waves and sunny beaches. Enjoy the joys of the beach with water slides, wave pools and attractions in this no worries environment. Get great customer service, beach side food and service while enjoying some of the crazy and subtle attractions that Adventure Island has to offer!
One Day Adventure Island Tickets
For information about one day tickets to Adventure Island select one of the links below that best suits you.