Disney's Hollywood Studios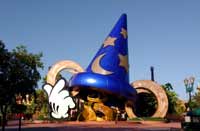 The Large Mickey Mouse Sorcerer Hat marks the entrance to the fourth most visited park in America, Hollywood Studios. Formerly known as MGM studios this theme park is home to movie lovers and enthusiasts alike! Filled with props, rides, demonstrations and colorful characters from the Big-screen you will feel like you've stepped foot into the movies. With entertainment from Star Wars, Indiana Jones, The Muppets, Toy Story, Beauty and the Beast, High School Musical and more; there is loads of fun for the whole family! Promoting the famous saying "Lights, camera, action!" this theme park is home to the classic movies of each era.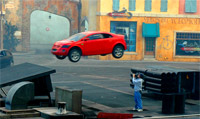 Using simulators, stage shows and rides Disney has attempted to capture the action, suspense, horror and romance firsthand for your personal entertainment. With nighttime pyrotechnic displays and actors on the street you will experience those old characters that you enjoyed so much.
Hollywood Studio's Dining Locations
Toy Story Pizza Planet:  Modeled after the retro space restaurant in the classic movie Toy Story this friendly dealer of the greasy American foods is bound to have the thing for you.
Backlot Express:  Grasping the theme of a Hollywood prop shop, this dining area serves a variety of healthy foods ranging from salads to chicken strips.
Mama Melrose's Ristorante Italiano:  Mama promises you the best when it comes to an Italian dinner.  With pizza baked in stone ovens and Italian dishes be sure to make a stop by to enjoy this casual dining experience.
Hollywood Studio's Attractions
Rock n' Rollercoaster:  Spin, flip and speed along this indoor/outdoor rollercoaster as you listen to the famous Aerosmith jam out in this wild ride!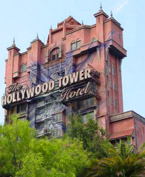 Tower of Terror:  Enter the Twilight Zone in this breathtaking thriller where you plummet floor after floor through space and time experiencing rush after rush in this mysterious thriller.
Star Tours:  Step onboard the Star Tours program and explore the universe, however be warned your faulty droid pilot is a clumsy one.  Take action and join in the fun as you stumble into the Rebels attack and help to take down the famed Death Star!
Indiana Jones Adventure:  Join the classic crew of the Indiana Jones movies and witness spectacular stunts and demonstrations!  Journey through the movies from the desserts, ancient ruins, airports and urban villages; this is not an experience you want to miss.