Ripley's Believe It Or Not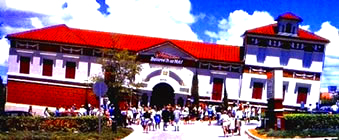 Ripley's Believe It or Not Museum appears to be sinking into one of Florida's infamous sinkholes. Large openings in the ground where hundreds and thousands of gallons of earth can be sucked into the ground. Sometimes even taking buildings and houses down with it!
For over 40 years, Robert Ripley-- the modern Marco Polo and the real-life Indiana Jones-- traveled the world collecting the unbelievable, the inexplicable, the one-of-a-kind. All of it amazing and much of it extremely amusing. His collection is housed in over 27 museums in 10 countries. Each museum's collection is 90% unique and different. Filled with incredible (and odd) objects and demonstrations; Ripley's is filled with strange and unique eye-catchers. As Ripley's ghost says... "Come in... look around... and see if you Believe It or Not!
Buy Ripley's Believe It Or Not Museum Tickets Now!
Ripley's Believe It or Not Museum is located at 8201 International Drive 2 blocks south of Sandlake road, just off (Eastbound) exit 74 - old 29 or (Westbound)74A - old 29A from Interstate 4.
Schedule:
Open 365 days a year from 9:00 a.m. to 1:00 a.m.
(Last Admission Sold at Midnight!) A trip through our ODD-itorium is a self-guided experience which can last as long as you wish, although the average visit time is one to two hours.